Kashmiri Red Chilli Powder• 100% Colour Free • Mild Flavour
Taxes included. Shipping calculated at checkout.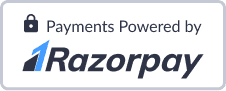 Description
Organic Kashmiri Red Chilli Powder • 200 Gms
Made from Kashmiri chillis, this organic Kashmiri Lal Mirch Powder helps lend an extra spicy taste and vibrant red colour to food.
kashmiri chili powder is made from well-ripened and dried Kashmiri chillies. These chillies are typically grown in the Kashmir region of India, and they are known for their bright red hue and intense heat. The dried chillies are ground into a fine powder using an iron-pounding machine grinder, which is then used to add spice and flavour to dishes.
What is the difference between red chilli powder and Kashmiri red chilli powder?
Most Red chilli powders are much spicier and tangier in taste than Kashmiri Red chilli powder. Kashmiri red Chilli powder is mild in spicy flavour and rich in the beautiful crimson colour.

How hot is Kashmiri Lal Mirch?
On the Scoville Scale, the Kashmiri chilli is very, very mild, with a score between 1000 and 2000. To compare, a mild jalapeno has between 5,000 and 8,000 Scoville Units. Because of this, it is used to add colour to South Asian dishes, not heat.
What are the health benefits of Kashmiri Red Chilli?
Rich in Vitamins:
You don't need those multivitamin pills anymore if you just eat this magical spice every day. Vitamin C can be found in Kashmiri Chilli powder. Getting enough vitamin C every day is important for healthy hair and skin. It also helps make your immune system stronger. It also has a lot of vitamin B complex, which is good for the nervous system and helps keep you full of energy. These are also good for the health of your brain and digestive system. It helps hair, skin, and nails stay healthy because it has Vitamin A and flavonoids.
Has Antioxidant properties:
Kashmiri chilli powder has a lot of antioxidants that help keep the active free radicals in the blood from doing damage. So, including this spice in your daily diet can help you get all the antioxidants your body needs, which can help you stay young and healthy.
Minerals in abundance:
Kashmiri chilli powder can be a superfood because it has many important minerals in it, like iron, potassium, copper, and manganese. Iron deficiency is becoming more common in young people, and this spice can help by increasing the number of red blood cells in the body and making it easier for the cells to take in oxygen.
Helps with problems with digestion and the lungs:
Kashmiri Chilli powder is a natural way to get rid of toxins and waste from our bodies because it clears them out. If you eat chilli often, you can easily fix digestion problems. It not only helps with digestion, but it also stops gas problems in the gut.
Being mildly hot can clear up a stuffy nose and get rid of a cold, making it easier to Breathe
How to use?
It can be used for cooking a wide array of dishes both Indian and continental
It can be sprinkled on top of hummus and dips for some extra spice
Adds a natural red colour to food and is less spicy than regular red chilli powder
Substitute smoked paprika with Kashmiri Red Chilli Powder as paprika is very similar in taste.
Ingredients & Directions for use
100% Kashmiri Red Chilli Powder
More about this product
| | |
| --- | --- |
| Brand Name | |
| Delivery Area | |
| Quantity | |
| Return policy | |