Gift Box • Set of Tea and Cookie
Taxes included. Shipping calculated at checkout.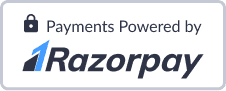 Description
Box dimensions: 21.5 cm X 14 cm X 9 cm
Eat me quick! Please note the cookies should be consumed within 15 days of receipt.
Oats and Rain Cookies contains: Wholewheat Flour, Raisins, Rolled Oats, Unsalted Butter, Eggs, Organic Jaggery, Cinnamon, Vanilla, Salt, Baking Soda
Ingredients & Directions for use
For celebratory mornings, opt for our tea – cookie box. Packed with delicious cookies, it is the perfect box for sharing with loved ones or even enjoy it yourself.
Includes:
120 grams oats & raisin cookies
100 Grams masala chai
Decorated paisley box
To choose your own blend and flavour in the box – Leave your preference in the comment section while placing an order or simply call/ what's app us on +91-8448-668-830. Always happy to assist in perfecting gifting solutions.